24 hours online support
This is a unique feature for our customers.
For devices manufactured after February 2020, the box has a dedicated QR code that will redirect you to the exact page for maintenance of your device.
For the devices produced earlier, you can manually navigate to labextrade.com -> Support -> Check for Assistance.
It is recommended that you familiarize yourself with the videos showing the normal operation of your speech-aid device, even if you do not have any problems while using your electrolarynx. This will improve your communication with the device and your understanding of the information it provides you.
In 80% of cases, you will find a diagnosis and solution to the problem on these pages in minutes! It is faster than contacting your provider and asking a question!
There you will also find clear instructions on how to proceed in other cases.
LABEX TRADE LTD., VAT: BG 203 81 91 49
59, Sankt Petersburg Blvd., 4017 Plovdiv, Bulgaria, EU
Landline: +359 32 54 9090, Mobile: +359 87 861 6711
Information & Orders: sales[at]labextrade.com
24/7 Q&A at   http://support.labextrade.com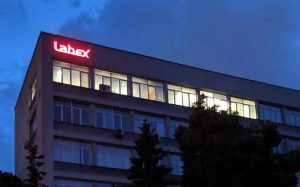 Contact our Ticket Support System
In case you did not find a solution to our 24-hours self-diagnostic assistance, you can contact us through our ticket system. Please navigate to support.labextrade.com
You will get answered as soon as possible within the next 3 working days.
Contact our Local Support Centers
We know that for our electrolarynx customers it is very important to have a working electrolarynx in their hands. Thus we established Local Representative and Support Centers for Labex Electrolarynges (LSC) in different areas in the world to speed up the end-user support:
Main Support Center, in the production facility for Europe and EMEA countries,
in Saint Petersburg for Russian speaking countries,
in Singapore for the customers from South-East Asia,
in Mexico for the Latin American Countries.
We are working hard to open Local Representatives and Support Centers in other parts of the world, too.
Factory
Main Support Center
Europe and EMEA countries
LABEX TRADE LTD., VAT: BG 203 81 91 49
59, Sankt Peterburg Blvd., 4017 Plovdiv, Bulgaria, EU
Working hours:
8:00 AM – 16.30 PM UTC +2:00
Monday – Friday
Contacts:
Landline: +359 32 54 9090
Mobile: +359 87 861 6711
Information & Orders: sales[at]labextrade.com
After-sales support: http://support.labextrade.com
Site & Online orders: admin[at]labextrade.com
LSC in Saint Petersburg
for Russian speaking countries
ООО Лабекс Трейд
Общество с ограниченной ответственностью «ЛАБЕКС ТРЕЙД»,
Россия, 191040 Санкт Петербург
Лиговский проспект 50, литер И, помещение 1-Н офис 40
ИНН 7842173261
ОГРН 1197847148256
КПП 784201001
Генеральный Директор: Александра Квашнина
Tel: +7 911 023-01-51
email: labextrade[at]yandex.ru
LSC in Singapore
for the customers from South-East Asia
METRO HEALTH TECHNOLOGIES
ADDRESS 16 Shaw Road, #01-04, Singapore 367954
PHONE (65) 6509 9279
MOBILE (65) 9296 7005
EMAIL enquiry[at]mge.com.sg
FACEBOOK https://www.facebook.com/MHTonestopsolution