Buy Labex Harmony Electrolarynx online - Good-looking, Simple to use, High-performance speech aid
The Harmony electrolarynx was designed with convenience in mind. The unbreakable button gives pure pleasure to touch. The LED indications are soft with the glow effect integrated.
If you need the longest speech time, the Harmony will impress you with more than 40 hours of speech time per single charge. This could be enough for a recharging period of a month.
The Harmony electrolarynx from LABEX is simple to use and reliable, it has a USB recharge integrated, with both reconfigurable talk buttons. If you buy it online from the Labex website, you can enlarge the warranty period by up to 4 years.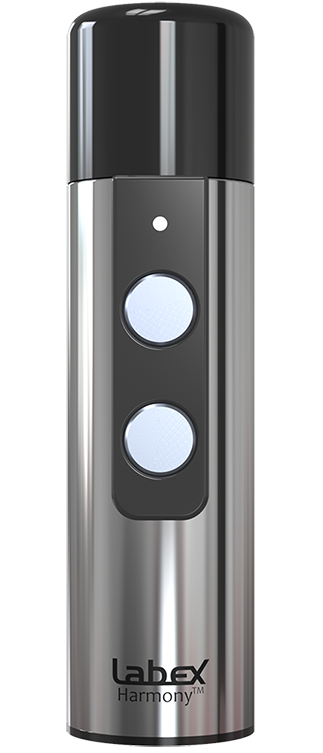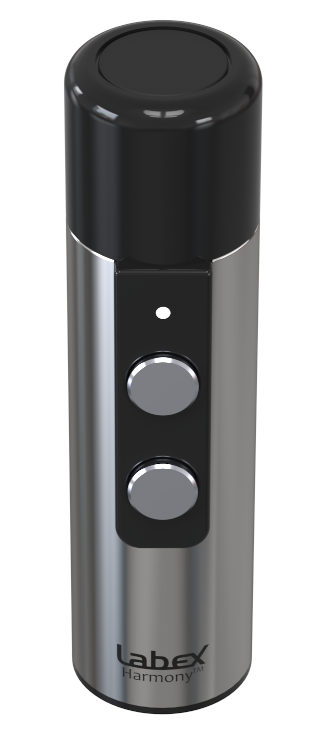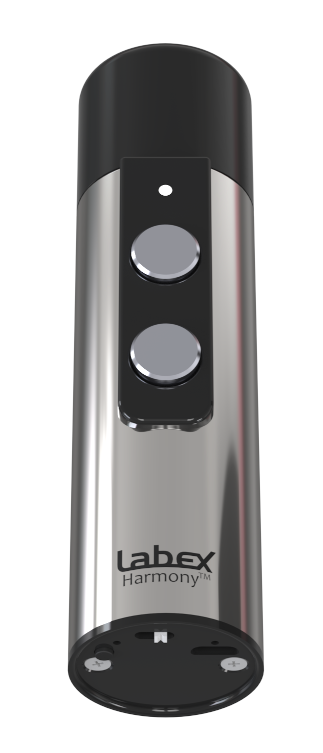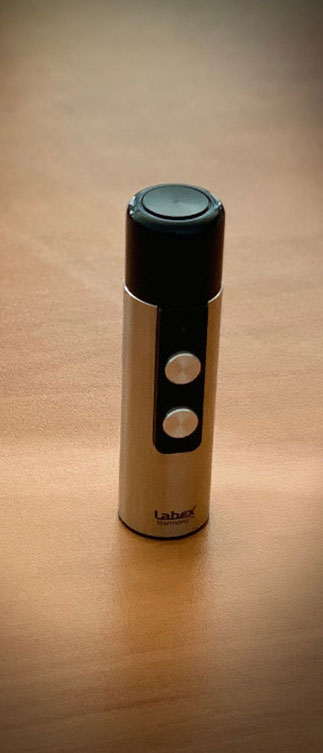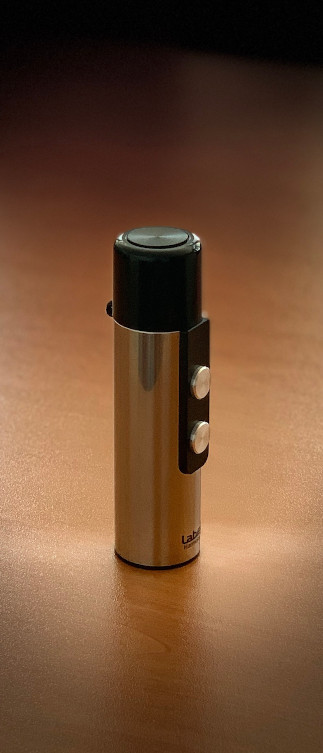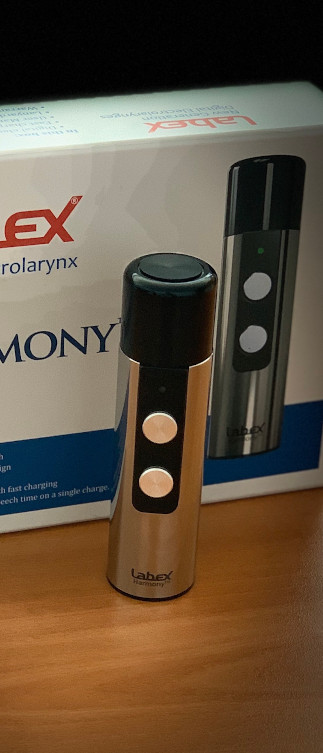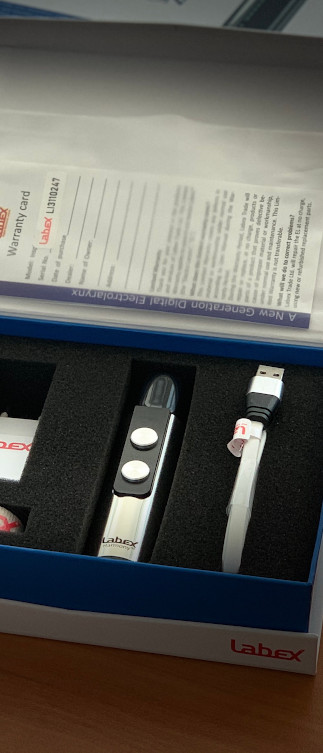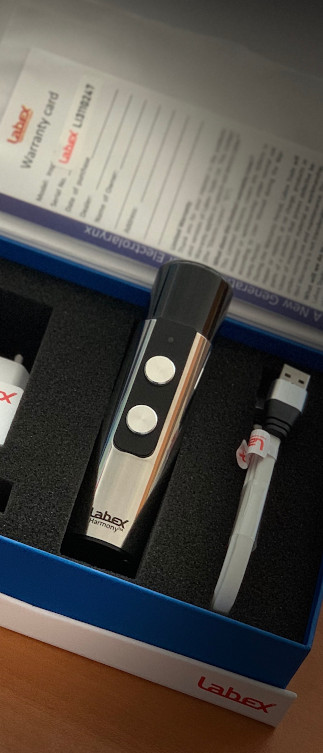 A high-performing electrolarynx with a simple interface
Elegantly designed premium all-metal body.
Realistic voice reproduction.
2 fully customizable speech buttons.
Long battery life, with a huge capacity, having 500 to 800 charging lifecycles. (equivalent to about 10 years of normal use)
30 to 45 hours of speech time within a single charge.
100% fully charged in 2.5 hours with the Labex charger.
USB charging ensures a high level of portability and convenience.
Easy-to-read instant battery discharge check with the multicolor LED indicator.
2 year warranty.
€499
MODELS and OPTIONS >>
Check the price in your currency online
Overview
Labex Harmony is a digital electrolarynx with a nice modern design. The Harmony electrolarynx is undoubtedly a highly innovative device. It comes with two fully configurable speech buttons. Each button can be customized independently and at unlimited times with its own volume and tone (pitch) settings. This brings to you the unique ability to have two distinct voices at the touch of your fingertips.
The intuitive and easy-to-use, one-step reconfiguration procedures can be used unlimitedly quantity times. The tactile sensation of the buttons is unique and brings you an absolute pleasure to use.
Here is a video description of how to manage the tone or volume of the speech assigned to a button, and  how to check the battery discharge level:
When the Labex Harmony is the best Electrolarynx
Labex Harmony is a high-performing electrolarynx with a simple interface and reliable tone, making it one of the best speech aids available on the market for laryngectomy patients. Every feature shows it is the best electrolarynx that you can have from the classical kind.
Harmony is perfect for you if:
You need the longest speech time.
You need a good-looking electrolarynx.
Based on the idea of the classic electrolarynges, Labex Harmony has all the functionalities that make a good, efficient speech aid. However, all of its features have been refined and improved.
Simple and easy to use, Labex Harmony allows you to change the volume and pitch for each of the speech buttons. This makes it easy to experiment and choose your preferences. Even though it is designed for users who prefer the classic manner of using electrolarynges, with a flat and neutral tone, Labex Harmony offers two speech buttons that allow you to switch instantly from one voice profile to another.
Labex Harmony is a joy to use thanks to its attractive design, and the good tactile feel of the speech buttons. Additional pleasures are the features like longest speech time ever, digital control on the sound generation, integrated charger, and low power consumption. You can see now why the device is so effective.
The 40 hours of speech time per a single charge should be enough for 3 or 4 weeks of average usage. The guaranteed battery life of 500 recharge cycles makes it possible to use it for over 10 years.
With Labex Harmony, you confidently have found your voice.
Simple and Elegant: The Labex Harmony Electrolarynx
With Labex Harmony, we redesigned the modern electrolarynx. With all-metal construction, elegant design, and advanced voice reproduction technology – we rediscovered the perfect electrolarynx device. With the combination of a super high-capacity battery, fast recharging, and simple interface -  this is one of the best devices on the market.
Labex harmony has two talk buttons that each can be configured will their own volume and pitch(tone) settings. This will give you the ability to have two separate voices at your fingertips whenever you need them.
The Intuitive Design Features of the Labex Harmony:
Smart Features
Our battery technology has no competition in the global market. Thirty+ (30h+) hours of freedom on every charge. Just 2.5 hours to recharge the device back to 100%. There are 3 levels of indication about the remaining capacity of the battery:
 More than 50% - Green glows for 3 seconds
Between 25% and 50% - Yellow glows for 3 seconds
Between 5% and 25% - Red glows for 3 seconds. It is best time to recharge your elecrolarynx
Below 5%  - Red constantly
Never be left out without a voice again.
Powerful built-in rechargeable battery allows for 30 hours of talk time
Full charge battery time is 2.5 hours with a factory-kit charger
High-quality metal body
Realistic voice reproduction
Easy-to-read LED indicator
Two fully customizable voice buttons
2 years warranty